Naposledy som sa vám zdôverila so svojím pokusom o spomalenie adventu a vytvorením si svojho decembrového rytmu (po x neúspešných pokusoch v minulosti). Bol to taký rovnovážny pocit. Až kým som nedostala zápal dýchacích ciest…a prišlo ozajstné spomalenie adventu. Vnútri viem, že to bolo za tú Mišiho služobku, ktorá ma na konci tmavého novembra vyviedla z miery. No myslím, že až toto ma prinútilo naozaj spomaliť….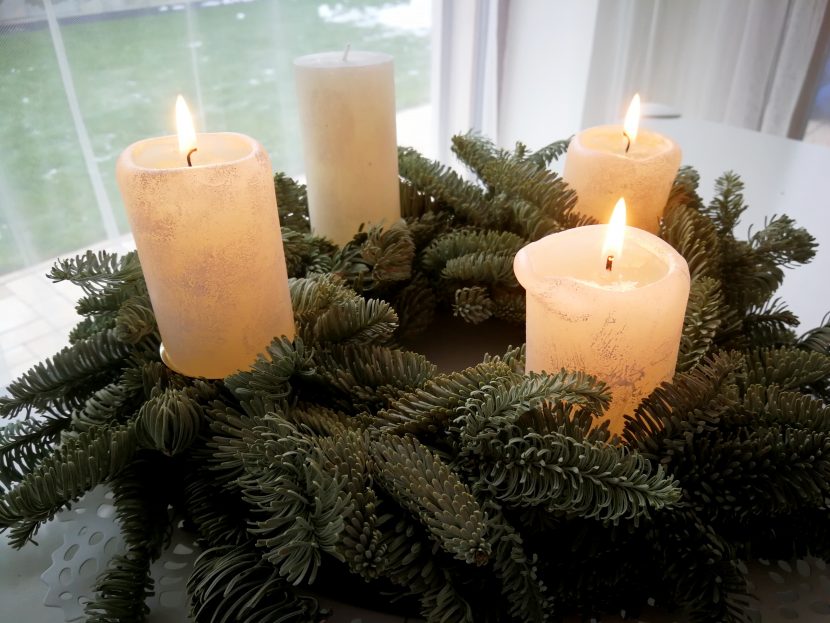 Na mňa až príliš….ale uvedomujem si cez to veľa vecí (aj keď ich veľa do Vianoc už nestihnem). Najmä to, aké je pre mňa ťažké zmieriť sa s tým, keď nemôžem ísť na plné obrátky….vidieť výsledky….byť činorodá…mať všetko pod kontrolou.
A to platí aj o Vianociach….nieže by som bola nejaká veľká gazdiná, že všetko tu musí byť tip-top, ale odkedy som mamou v dome a rodina sa schádza na Vianoce u nás, ťahá to aj mňa už viac k predvianočnej žienke domácej….všade naokolo domčeková romantika, sneh, ticho, deti čakajúce na Vianoce….a ja im chce všetkého dopriať…a urobiť im čarovné Vianoce…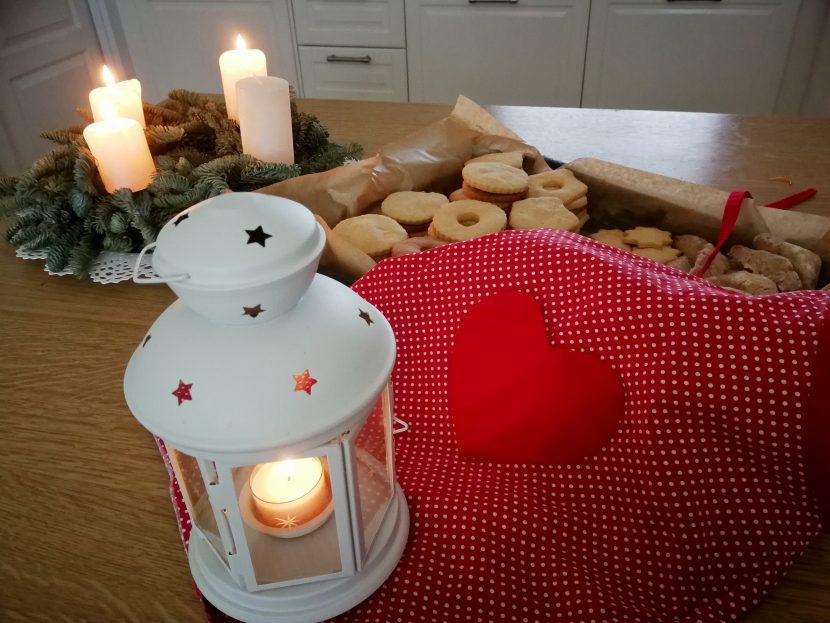 A potom sa na ne pozriem a vidím ako málo im stačí k vianočnej atmosfére…stačí, že napadne sneh….absolútne bez môjho pričinenia majú kopec radosti…Boh sa stará o všetko….a mne je jasné, že takto to má proste teraz byť….minimálne u nás doma, v tomto čase a s chorou mamou…je mi tiež jasné, že deti budú rásť a všetko bude iné….že spolu upečieme viac koláčov, krajšie zdekorujeme dom, lepšie sa postaráme o návštevy, otestujeme vianočné trhy kade tade, pekne sa nastylujeme a elegantne posadíme ku štedrovečernému stolu, kde sa budeme spolu smiať a podávať si misky…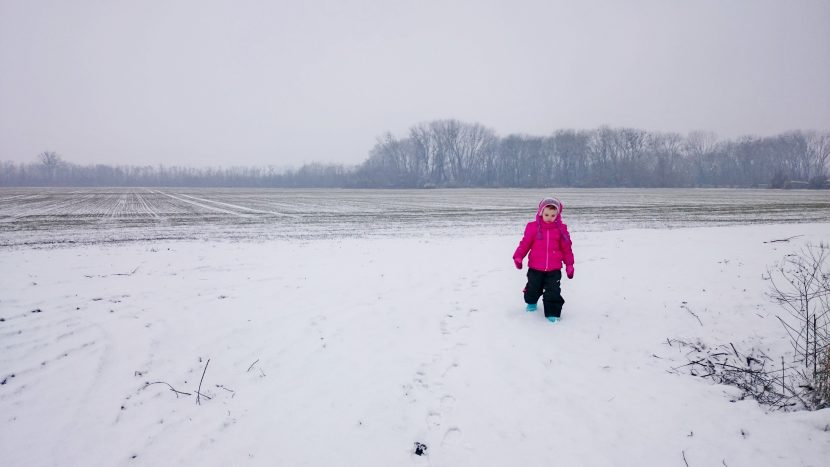 No teraz nie je ten čas…
Teraz je čas kojiť, utešovať, pracovať pomaly, prebalovať, rozprávať sa o dinosauroch, tvoriť teplo domova, byť na seba dobrá, liečiť sa, nechať veci plynúť, uzmierovať súrodencov, byť stále spolu, počúvať, žiť nedokonalo, čakať, prijímať….cez materstvo ma Boh učí veci, ktoré by som sa sama nikdy nenaučila……hlavne sa tých svojich predstáv o živote vedieť na chvíľu aj pustiť, keď treba……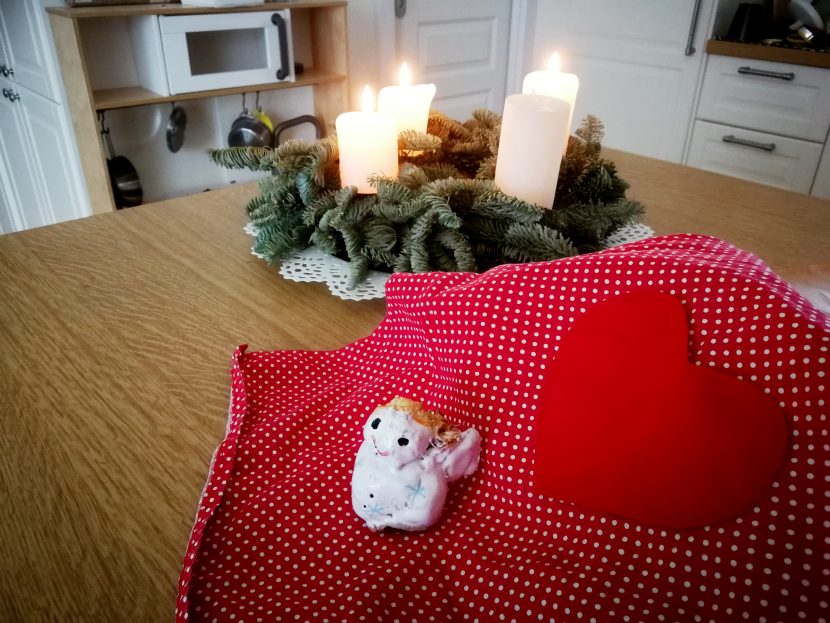 Pretože …V.Š.E.T.K.O…M.Á…S.V.O.J…Č.A.S…..a preto každé obdobie je jedinečné a neopakovateľné…
Myslím, že nielen deti sa potrebujú učiť trpezlivosti pri očakávaní Vianoc a darčekov pod stromčekom….je to skvelá symbolika aj pre mňa….učiť sa čakať na dobré veci v živote….a medzitým sa tešiť z tých, čo už mám….lebo aj po tých som kedysi najprv túžila…..
Trpezlivosť, vďačnosť, radosť, láska … k iným aj k sebe….pre toto prišiel Ježiš(ko) na svet a rodí sa každé Vianoce v srdciach ľudí…a kompenzuje každý deficit, chorobu, chudobu, osamelosť, ťažobu….neexistujú dokonalé Vianoce…ani dokonalé rodiny… nech už to na sociálnych sietiach vyzerá akokoľvek…
Preto sebe aj vám prajem vianočného sviatky plné najmä (dokonalého) Božieho dotyku ❤️
To nech všetci nájdeme pod stromčekom….
Ak sa vám tento článok páči a zdá hodný šírenia, budem vďačná za like či share 🙂 … môj blog môžte ďalej sledovať na Facebooku aj Instagrame. Priebežne pridávam zaujímavé stories, foto aj info o nových článkoch…teším sa na vaše komentáre…